2015 New Professional Brush Hair Straightener Comb LCD Display Electric Straightening Irons Straight Hair Brush Straightener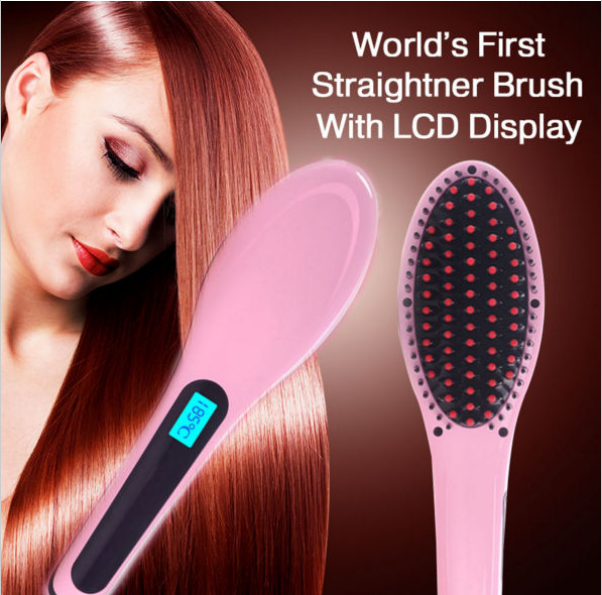 Description:
High Quality,60 seconds give you perfect new beautiful hair style,Non fuss use – simply brush through for sleek shiny straightened hair.
Easily straighten hard to reach areas such as the crown of your hair as pictured below.Negative Ions reduce frizz while Thermo plates smooth cuticles.
Brushing action reduces risk of dry damaged hair unlike traditional hair straighteners.
Features:
Brand new and high quality.
Individual Thermo plates
Comb guard and protective pads
Swivel power cord bevel
Heat proof outer shell
12 Months Warranty
Specification:
Color: White,Pink.
Plug:US/EU/UK.
Display:LCD
Temperature Controller: Digital
Applicable hair: Dry & wet
Max.temperature: 240 °C
Min.temperature: 80 °C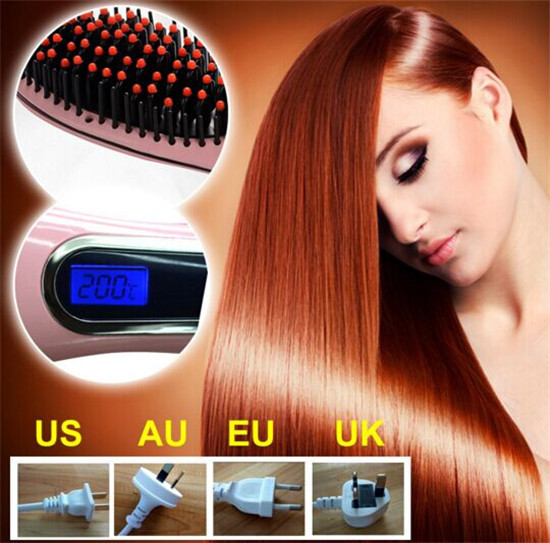 Detail:
Using different temperature settings to make hair straight, the hair straighter have 10 rates to adjust temperature, every rate can change 5 degrees Celsius, we recommend that you choose the highest rate at the beginning, then according to the hair texture to reduce the temperature level.
Applications:
1,Choose temperature in 210-230 degrees Celsius for a fine hair.
2,Choose temperature in the 190-210 degrees Celsius for general hair.
3,Choose temperature in 170-200 degrees Celsius for soft hair.
4,If you set low temperature perm, molding may be a little slowly.
5,Please press on-off key and hold for 3 seconds to turn it on, and press on-off key and hold for 3 seconds to turn it off.
6,According to personal's habit to use this hair straighter and it has no direction.
Instructions:
1,Please keep hair dry and neatly groomed before using.
2,Insert the plug into proper the socket.
3,Turn it on and adjust the temperature, you can use when the temperature reach what you want.
4,In the process of using, one hand pulls hair end and comb with straighter.
5,If you want to keeps straight hair last longer, please use hair styling lotion and softener lotion and wash clean before hair straightening.
6,It should not clip too much hair, if you want to clip more hair, you should be slow down the speed in the process of drawing.
7,It will be turned off by an hour automatically, turn it on when you use against.
Safety Precautions:
In order to ensure the proper use of this product, please pay attention to the following security matters.
1,Under 14 years-old children using this product must have adult supervision.
2,Keep it dry and don't use it in bathroom and wet area. Please don't knock it and fall off from high-attitude, please don't use if there is any damage.
3,Please don't rework, dismantle and repair this product.
4,This product can't be put into the fire or external heating.
Warning:
1,Don't use this product in bathtub and pool, otherwise it will easily cause damage.
2,Please check product integrity before using, if any damage please don't use.
3,Please check wire integrity before using, if any damage please don't use.
4,Don't randomly place this product to avoid children to use.
5,Please wait until cooling when pack up this product.
Note:
Due to lighting effects, monitor's brightness , contrast settings etc, there could be some slight differences in the color tone of the pictures and the actual item.
Due to supplier different,this product has black edge or red edge,and your order will be sent in colors of edge at random.
We are really appreciate for your understanding!
Package Included:
1 x Hair Straightener
1 x English manual